DO YOU PROVIDE FOOD AND DRINK?
No, we do not provide any food or drink. You must supply all food, beverage, rentals, staffing, or additional services (DJ, florist, decor, etc).
DO YOU HAVE A PREFERRED CATERER?
Yes, Canard,Inc. is our exclusive caterer. Canard known for their creativity and dedication to the best in cuisine and service, and they also can be very flexible in creating an event that works with your budget.
CAN I HAVE FOOD & BEVERAGE DROPPED OFF OR BRING IT IN MYSELF ?
We do allow drop off catering from food providers for daytime meetings only. In some cases, we still may require a catering attendant to assist you. We do not allow BYOB.
For special events, all food and beverage must be provided from our caterer. No drop off or BYOB allowed.
WILL I BE CHARGED A BUY-OUT FEE FOR DROP-OFF CATERING?
No, drop off catering is not considered an "outside company" and will not be charged a catering buy-out.
DO YOU HAVE A PREFERRED LIST OF DROP-OFF OPTIONS?
We would be happy to provide recommendations that we love and have worked with in the past, but you can order from whomever you wish!
WHAT TECH CAPABILITIES DO YOU HAVE ON YOUR 5TH FLOOR?
Please see our amenities section!
DOES THE ROOF HAVE ANY AV CAPABILITIES?
No, the Rooftop does not have any AV capabilities, but we do provide two JBL waterproof speakers to which you can hook up your phone or one of our house iPads.
WHAT KIND OF LIGHTING DO YOU SUPPLY?
Our 5th Floor is equipped with standard LED "Meeting" and "Cocktail Settings". Our terrace and rooftop herb garden are equipped with automatic lighting at sunset.
DO YOU HAVE WIFI?
Yes, We have a Guest WiFi and password.
HOW DO I BRING MY FILE OR PRESENTATION?
You can send it to the Event Manager, who can then load it up and test it for your prior to the event
You can bring it on a USB and drop it on our computer
You can use an HDMI to connect your laptop to our screens. We have 2 floor boxes to plug in a USB cable.
DO YOU HAVE MUSIC?
Yes, we have Spotify hooked up to our system. Just find a playlist you like, and you are good to go! If you want to play music from your phone, we can hook it up with an AUX cable.
DO YOUR LIVE STREAM CAMERAS RECORD?
No, our TV monitors in our demo kitchen have no recording capability.
DO YOU PROVIDE AN AV TECH?
No, we do not provide an event services. During your setup time, your GLWD Event Manager can load up presentations for you, or troubleshoot if an issue arises, however they are not expected to act as your AV Tech. We suggest designating somebody from your party to be in charge of AV, and doing a run-through during your setup time.
DO YOU ALLOW LIVE MUSIC, OR A DJ?
Yes, we do allow live music or a DJ, but all music on the terrace and rooftop herb garden must be off at 10pm due to neighborhood noise ordinances. Nothing can be plugged into our sound system, so your DJ will need to provide. We have a preferred DJ.
DOES YOUR PRICE INCLUDE FOOD, DRINK, OR STAFF?
No. You must supply all food, liquor, rentals, staffing, or additional services. See amenities for what is included.
DO YOU HAVE A RENTAL MINIMUM?
Yes, we have a 4 hour minimum.Keep in mind that time you book needs to include load in and load out.
IS THERE A CLEANING FEE?
Yes, all events will be charged a cleaning fee.
HOW DOES PAYMENT WORK?
Space rental payment is due in full to book your day. You can pay over the phone, or email a check to:
God's Love We Deliver
ATTN: Chrissy Basham
166 Avenue of the Americas
New York, NY 10013
WHAT IS YOUR CANCELLATION POLICY?
We can provide you with a full refund if you cancel at least 48 hours prior to your event
WHAT ABOUT DAMAGES?
We require a security deposit on a separate check, or we can keep your credit card number on file.
DO YOU CHARGE OVERTIME?
Yes, any time outside of what you purchased will be charged at $500 hour.
DO WE NEED TO PURCHASE TIME TO SET UP AND BREAKDOWN?
Yes, ample time to load in, set up and break down, load out and clean must be included in your booking.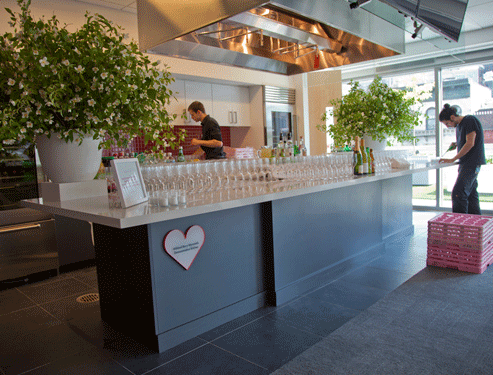 DO YOU PROVIDE EVENT STAFF OR SERVICES THAT ARE INCLUDED IN MY PRICE?
No, we do not provide any services. We provide only access to and use of the event space. All food, liquor, rentals, staffing, or additional services must be supplied by the your employment of an appropriate vendor.
We also provide an Event Manager that will be in the building during your event if any issue arises.
DO YOU REQUIRE SECURITY ON-SITE?
Yes, all require security on 5th Floor Terrace and Rooftop Herb Garden. We use Meyerson Security.
DO YOU NEED INSURANCE?
We need a COI listing God's Love We Deliver, its affiliates and subsidiaries as an additional insured from you and from each vendor onsite (caterer, DJ, photographer, florist, planner, etc). It must be for at least $2 million general aggregate. Attached is a template for acceptable insurance. You can buy online at https://www.specialeventinsurance.com/ in under 10 minutes.
DO YOU HAVE A LOADING DOCK AND HOW DOES IT WORK WITH DELIVERIES?
Yes. Our loading dock hours are between 11am-3pm, due to volunteer activites. All Party Rentals must be delivered around our current event schedule. Typically we ask that rentals be delivered 11am-3pm the day of your event, and picked up the day after your event from 11am-3pm. However, depending on our event schedule, you may be charged for a timed delivery, or late night pickup.
CAN I HAVE THINGS PICKED UP THE NEXT DAY?
No, everything (including Party Rentals) must be loaded out during your purchased "breakdown" time.
DO I HAVE TO BE THERE FOR PARTY RENTAL DELIVERY?
No, somebody from our team will take care of that.
CAN I LEAVE DECORATIONS UP, AND TAKE THEM DOWN THE NEXT DAY?
No, our 5th Floor Event Space is used by our staff daily and must be returned to its original layout immediately after each event.
CAN I SHIP MATERIALS TO YOU BEFOREHAND, OR CAN I DROP OFF DECOR THE DAY BEFORE?
Materials may not be stored in the building longer than 2 hours before your event. Everything must be loaded in during your purchased "load in" time.
Small packages can be delivered up to [24] hours prior to your event day, contingent upon our event schedule.
If you would like to ship materials, please mail them to:
God's Love We Deliver
ATTN: Chrissy Basham
166 Avenue of the Americas
New York, NY 10013
CAN I PUT SIGNAGE IN THE LOBBY FOR MY EVENT?
Yes, you can put signage by the elevator for your event.
DO YOU ALLOW SMOKING ON THE ROOFTOP OR TERRACES?
No, we are a non-smoking building. If you guests would like to smoke, they need to exit the building from the lobbY and go out to the street.
CAN I COOK IN THE DEMO KITCHEN DURING MY EVENT?
We approve cooking demos on a case-by-case basis according to liability and fire safety protection.
DO GUESTS NEED TO CHECK IN? HOW DO THEY GET INTO THE VENUE?
Yes, we need a list of attendees so you guests can sign in downstairs in the lobby with our receptionist. If you already planning on having a check-in for your registration, you can have it in our lobby.
DOES YOUR ELEVATOR LOCK? WILL WE HAVE A KEY CARD?
Usually our elevator is locked during business hours, but it will be open for the duration of your event.
WHAT IS YOUR CURFEW?
Our building must be closed and in a broom-clean condition by 11pm. Breakdown must start no later than 10pm to make this happen.
CAN YOU TENT THE TERRACES OR ROOFTOP HERB GARDEN?
Yes, it is possible. Contact Nassau Tenting for an estimate.
DO I NEED TO PROVIDE A GUEST LIST FOR THE RECEPTIONIST?
Yes a guest list is needed for our building, but we do not provide a formal check-in. If you are not checking your guests in downstairs yourself, our receptionist will guide your guests up to the event space when they arrive.
CAN WE PUT UP POSTERS IN THE LOBBY?
Yes, of course! We have 4 easels for your posters.
IS THERE PARKING NEARBY?
Yes, the closest Park Garages are Edison ParkFast and Varick Street Parking.
OTHER HOUSE RULES?
No smoking. No glasses on the ledges of the terrace or rooftop herb garden. No red wine.